New JEEP 2021 Jeep Wrangler for Sale in Santa Cruz, NM
2021 Jeep Wrangler: First-Ever 4xe Plug-In Hybrid
If you are looking for an off-road adventure or an iconic SUV, you want to check out the 2021 Jeep Wrangler in Espanola, New Mexico. At Chrysler Dodge Jeep Ram of Espanola, we've put together a complete 2021 Jeep Wrangler review. Let's look at the new Jeep Wrangler reliability, performance, safety, off-road capability, and more.
2021 Jeep Wrangler Release Date
The new Jeep Wrangler was released in 2020 and is on sale now in Espanola, NM. However, the Wrangler 4xe hybrid model will arrive later in 2021.
Contact Us About a New Jeep Wrangler Today
2021 Jeep Wrangler Price & Trim Levels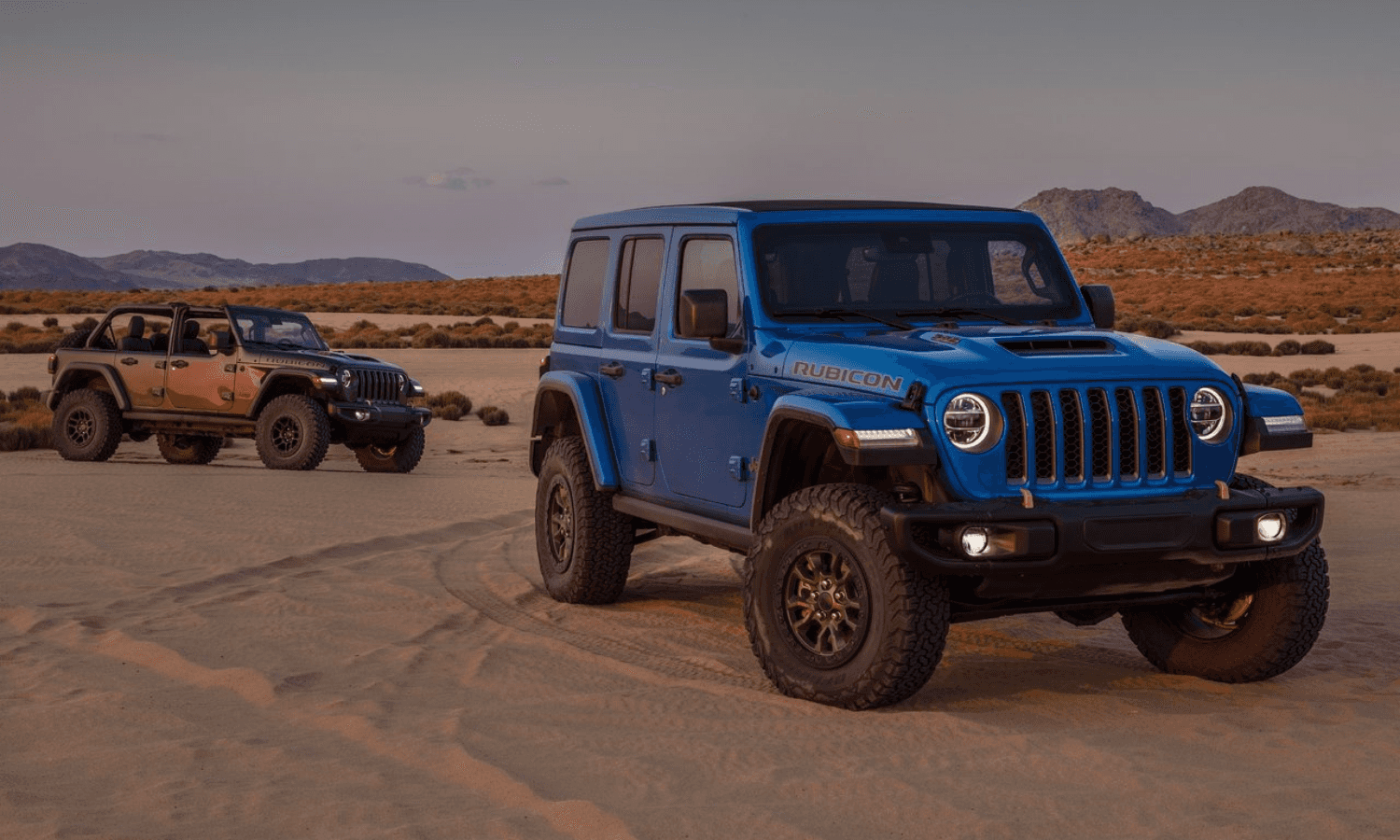 The 2021 Jeep Wrangler price starts at $28,295 for the 2-door Jeep Wrangler or $32,075 for the 4-door Jeep Wrangler. There are 13 total trim levels to choose from with 2-door or 4-door configurations with the moniker "Unlimited" simply meaning a Jeep Wrangler with 4-doors. Here are the starting prices and trim levels available with 2021 Jeep Wrangler 2-door:
Sport: $28,575
Willys Sport: $30,820
Sport S: $34,510
Islander: $34,465
Willys: $35,810
Freedom: $36,210
80th Anniversary Edition: $36,515
Rubicon: $39,220
Here are the starting prices and trim levels available on the 2021 Jeep Wrangler Unlimited with 4-doors:
Unlimited Sport: $32,075
Unlimited Willys Sport: $34,320
Unlimited Sport S: $36,515
Unlimited Islander: $38,210
Unlimited Sport Altitude (4-door Only): $38,510
Unlimited Willys: $39,310
Unlimited Sahara (4-door Only): $39,170
Unlimited Freedom: $39,465
Unlimited 80th Anniversary Edition: $40,015
Unlimited Sahara Altitude (4-door Only): $42,765
Unlimited Rubicon: $42,720
Unlimited High Altitude (4-door Only): $50,075
Unlimited Rubicon 392 (4-door Only): $73,745
2021 Jeep Wrangler Unlimited Rubicon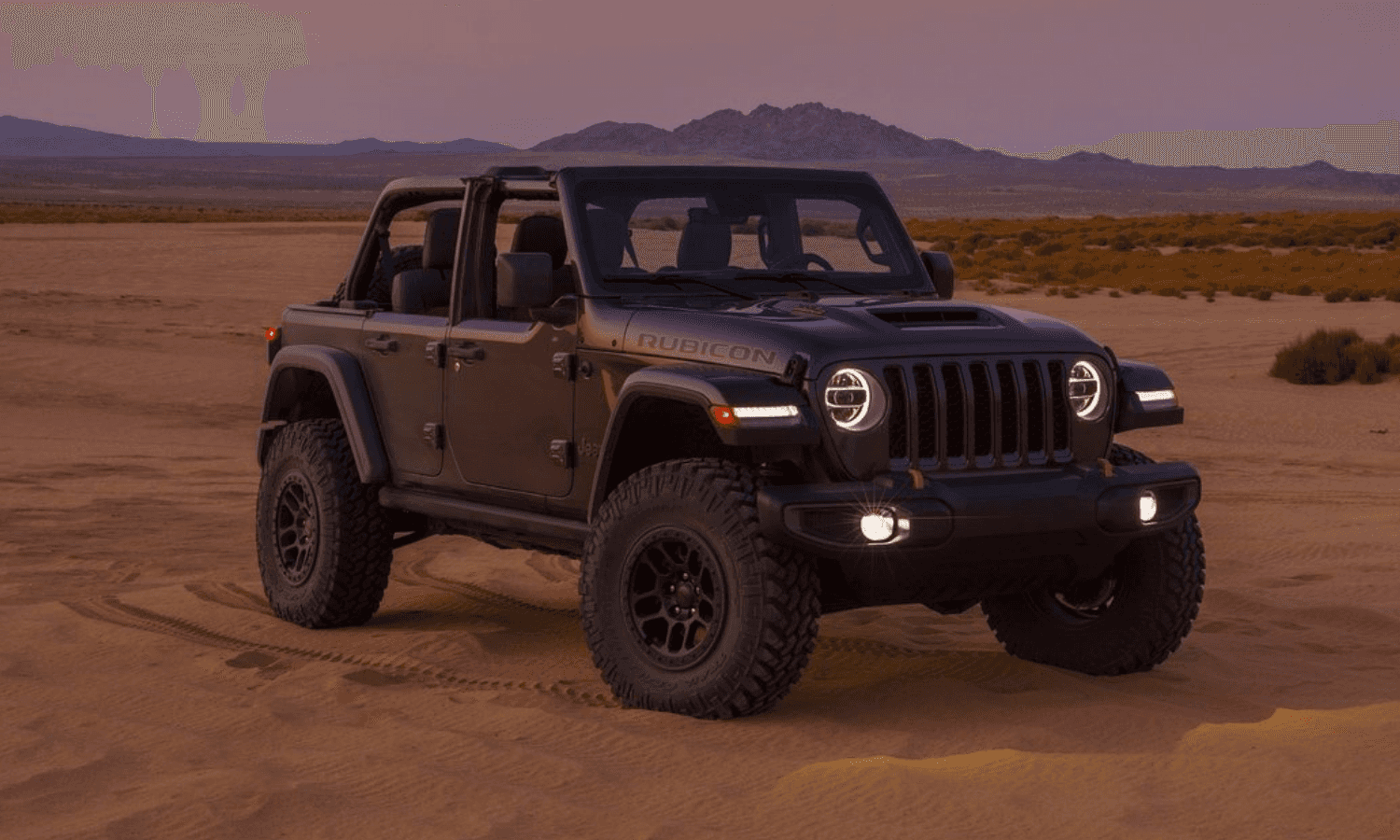 The 2021 Jeep Wrangler Unlimited Rubicon is designed as an off-roader for the whole crew and all your equipment. It adds to the Sahara trim with locking front and rear differentials, rock rails, a sway bar, plus an upgraded 4WD system with more seating capacity than the 2-door Jeep Wrangler Rubicon.
2021 Jeep Wrangler 4xe Hybrid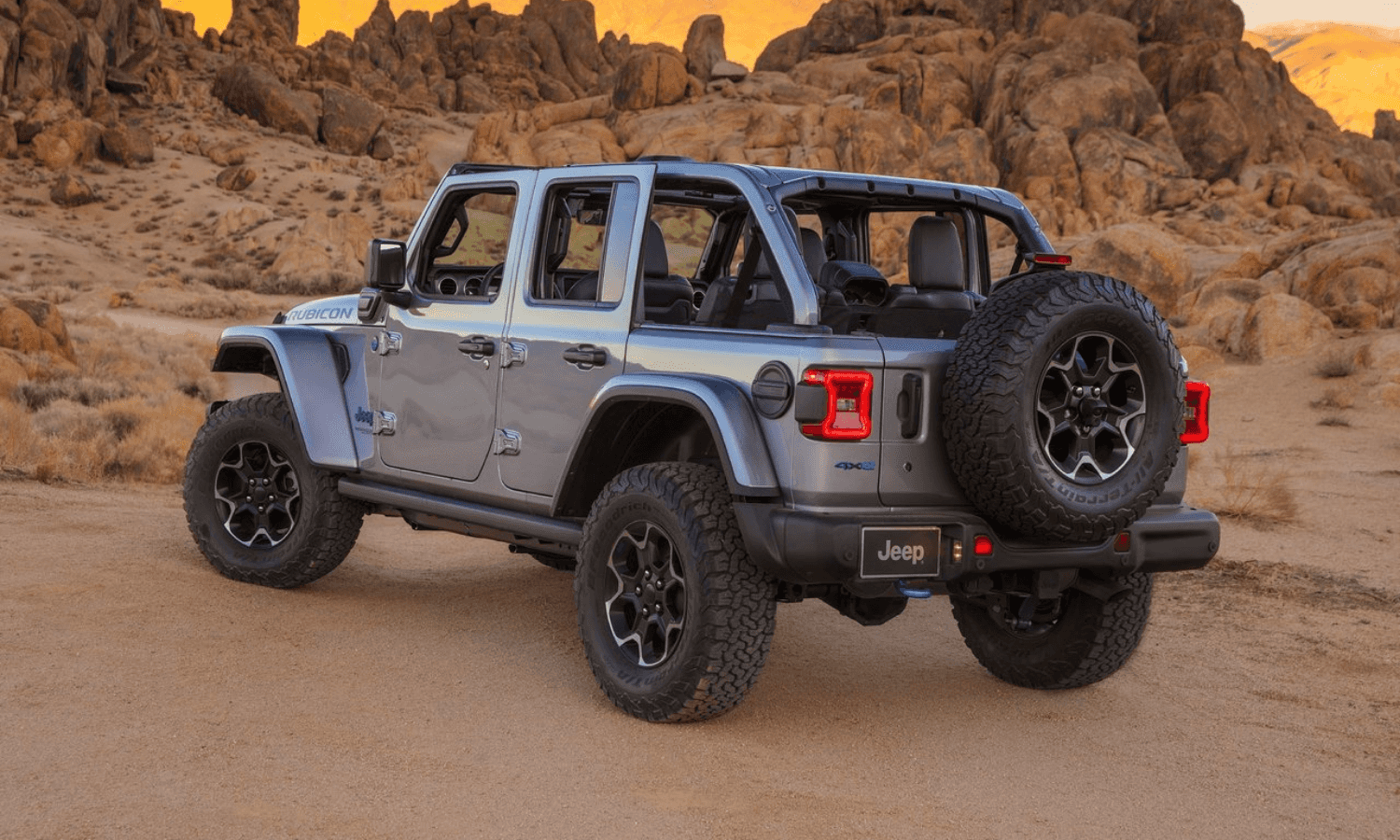 The first-ever plug-in hybrid Jeep Wrangler, dubbed the 4xe, comes with a 2.0-liter turbo-four and two electric motors to create a combined 375 horsepower and 470 lb-ft. of instant torque. It also includes an eight-speed automatic transmission and should produce about 21 miles of all-electric driving with an EPA-estimated 49 MPGe and a total driving range of 370 miles. Currently, the 2021 Jeep Wrangler 4xe only comes in a 4-door configuration, but does have soft tops, hard tops, powered tops, dual-tops, and mesh tops. Plus, there are still a few trim levels to choose from with the all-new Wrangler 4xe Hybrid:
Sahara 4xe: $47,995
Rubicon 4xe: $51,695
High Altitude 4xe: $53,815
2021 Jeep Wrangler Interior Design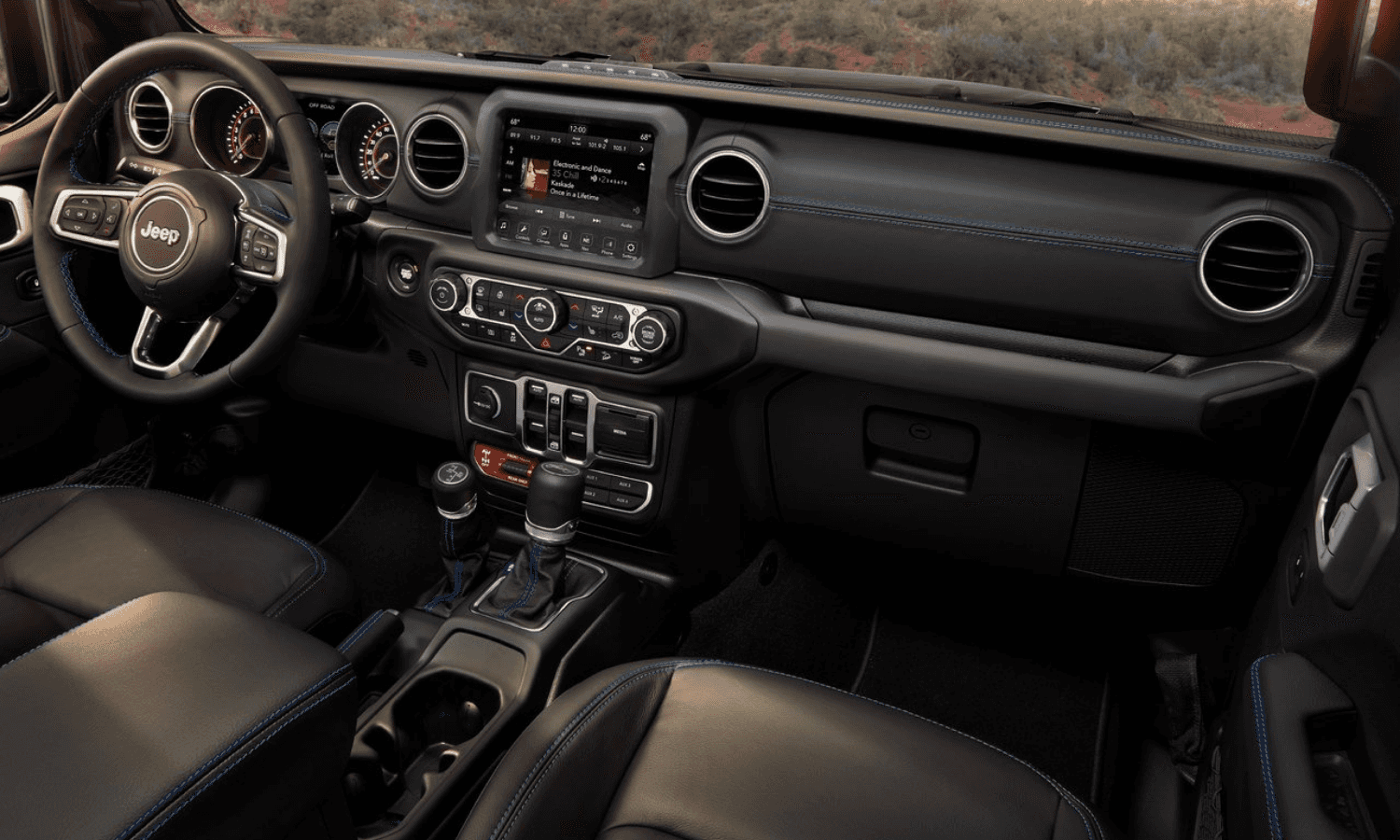 The 2021 Jeep Wrangler interior features room to hold four occupants in the two-door model and five people in larger four-door models. All Wrangler SUVs come standard with three 12-volt outlets, a USB port, Bluetooth, an eight-speaker sound system, and a five-inch touch screen.
2021 Jeep Wrangler Door Configurations
With so many 2021 Jeep Wrangler configurations, there's a style available for everyone. Choose a 2-door or 4-door model, depending on the trim level you're interested in, along with the hard or soft top and removable doors.
2021 Jeep Wrangler 2-Door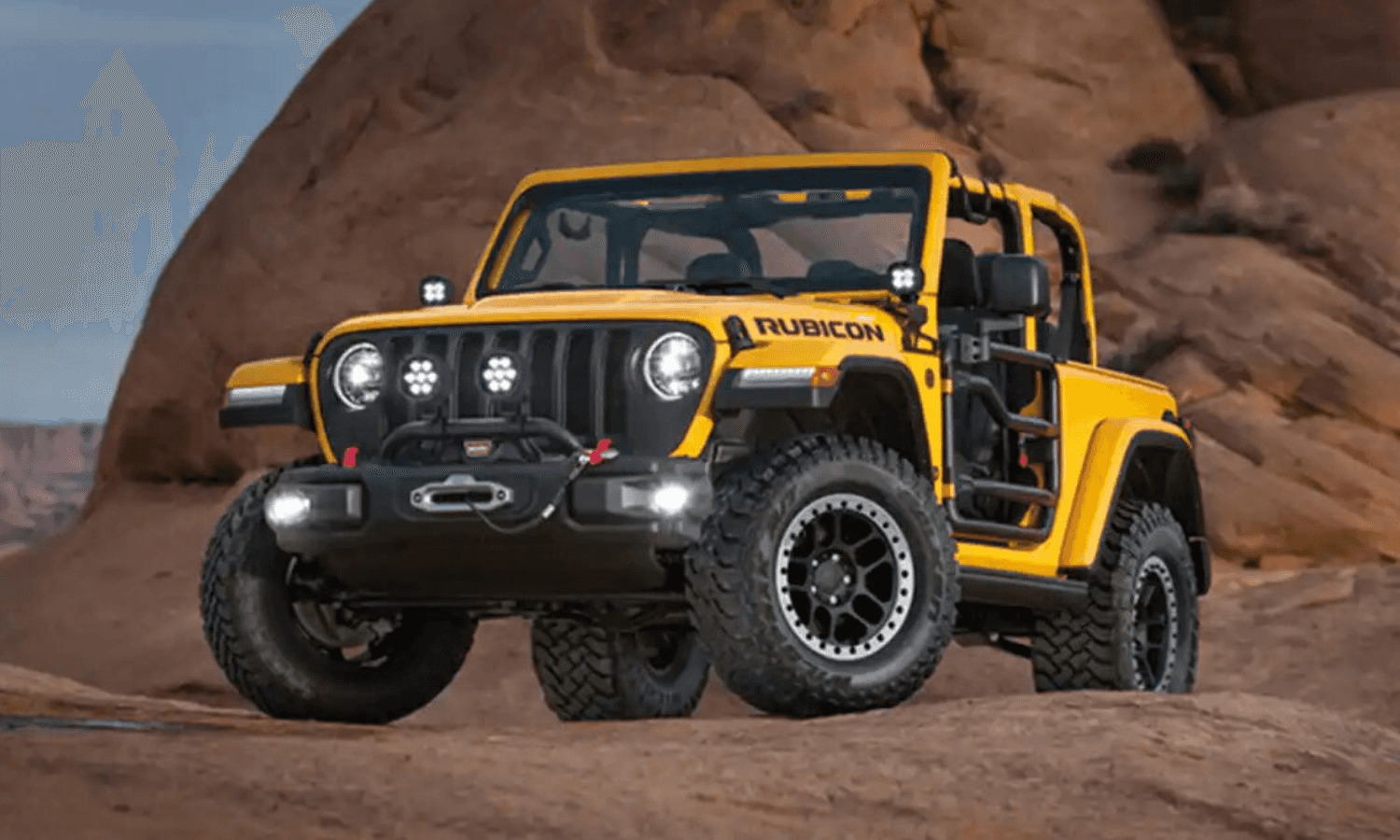 2021 Jeep Wrangler Unlimited 4-Door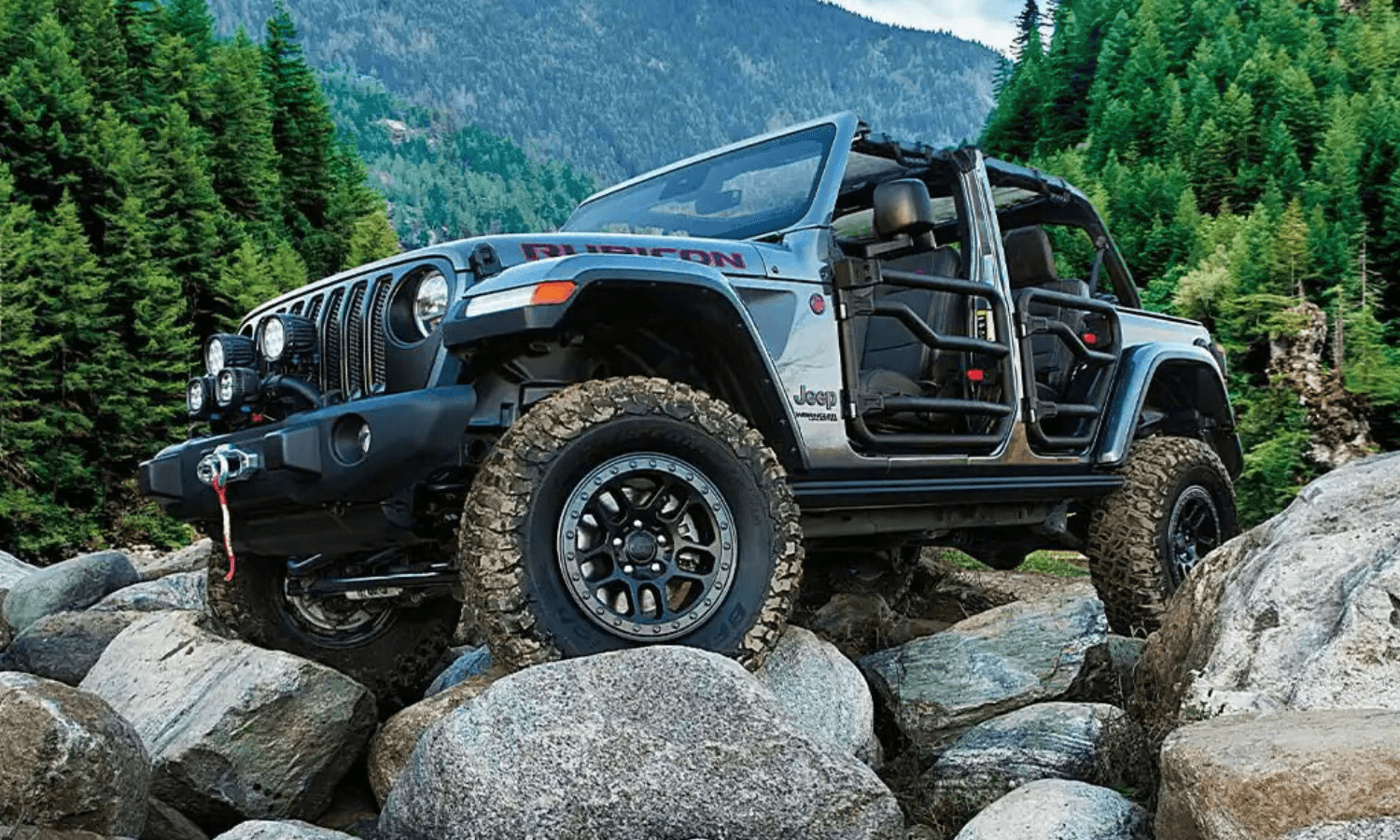 2021 Jeep Wrangler Exterior Colors & Dimensions
The 2021 Jeep Wrangler dimensions measure 167-188″ L x 74″ W x 74″ H. Customers have the choice of 17-inch or 18-inch wheels. As far as exterior colors go, there are 12 total colors on the new 2021 Jeep Wrangler. However, the color options available will depend on the Jeep Wrangler model you buy as less colors are available on certain trim levels like the High Altitude or 80th Anniversary Edition Wranglers. For most of the 2-door and Unlimited 4-door Jeep Wranglers, choose from the following color options: Black, Granite Crystal, Sting-Gray, Billet Silver, Hydro Blue, Chief (Light Blue), Snazzberry (Deep Red), Firecracker Red, Nacho (Orange), Hellayella (Yellow), Sarge Green, and Bright White.
2021 vs. 2020 Jeep Wrangler Changes
The most significant change to the 2021 Jeep Wrangler is the new 4xe plug-in hybrid model arriving in the Wrangler lineup. You can also add a forward-facing off-road camera to help you navigate the trails for the latest models.
2021 Jeep Wrangler Engine Options & Capability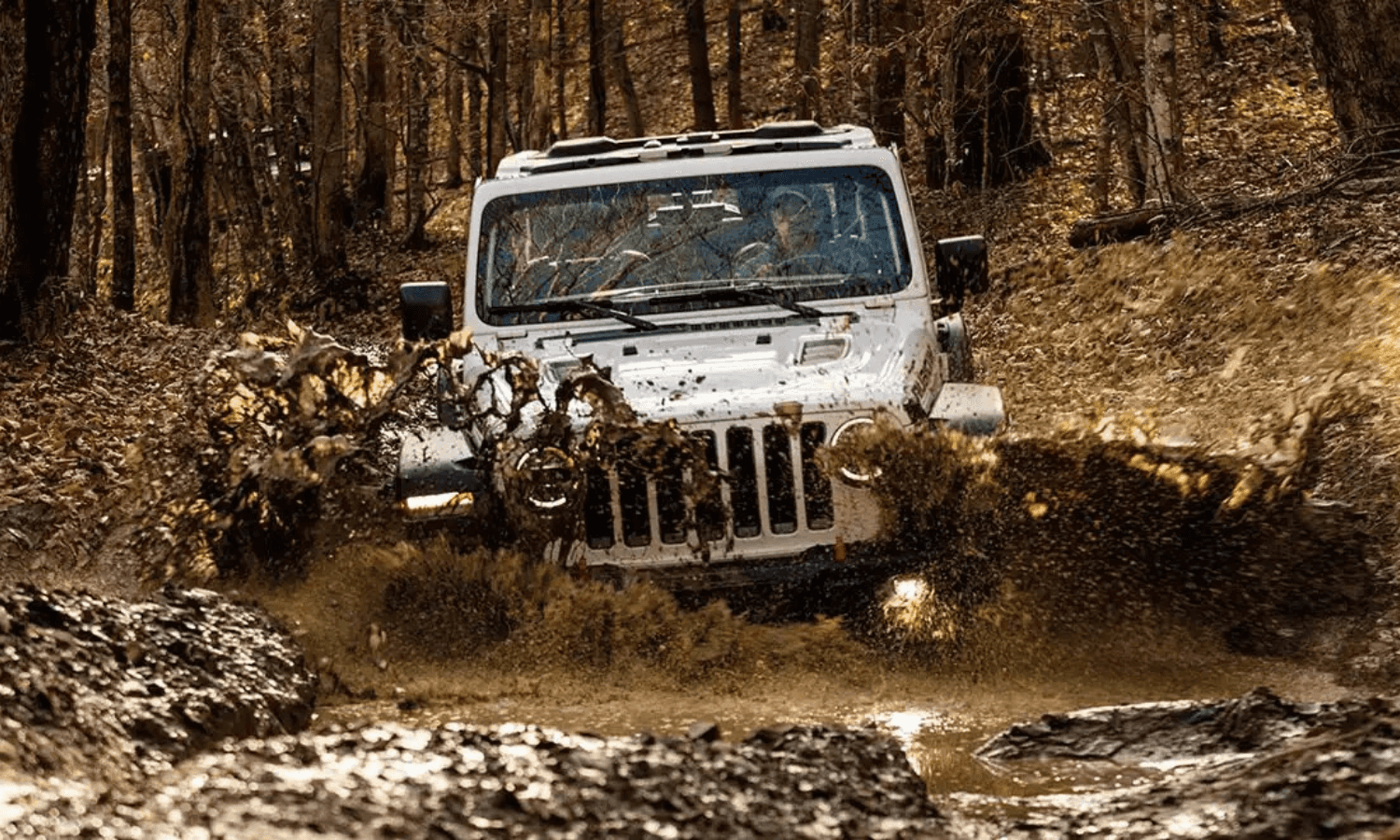 There are several engine options with the 2021 Jeep Wrangler. Base models include a 285-horsepower Pentastar V6 that is rated at 20/24 mpg. There's also a 270-horsepower turbo-four with ratings of 22/24 mpg. The V6 diesel model offers the best ratings of 22/29 mpg. However, the 4xe will arrive later in the year with estimates close to 50 MPGe.
2021 Jeep Wrangler Towing Capacity & Payload Rating
The 2-door 2021 Wrangler can tow up to 2,000 pounds, while the 4-door Wrangler is rated at 3,500 pounds. In the back of the 2-door Wrangler, you will have 12.9 cubic feet of space or a maximum of 31.7 cubic feet when the seats are folded down. In comparison, the 4-door Wrangler provides 31.7 cubic feet behind the back seats and a total of 72.4 cubic feet.
2021 Jeep Wrangler Safety Ratings & Technology
The 2021 Jeep Wrangler has not been evaluated by the NHTSA but did receive a "Good" rating in four IIHS crashworthiness tests. All models come equipped with a standard rearview camera, but there are plenty of other advanced driver-assist features to upgrade your Wrangler.
New Jeep Wrangler for Sale in Espanola, NM